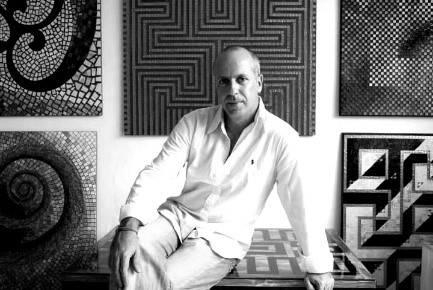 Christian was born in 1965 and took up stained glass when he was 24. After some years gaining experience with the material, he moved away from commercial work like the production of tiffany lamps and windows, to concentrate more on expressing his creative talent. Encouraged by Tony Guillaumier of Guillaumier Industries, who provided Christian with his first studio, he embarked on his journey of creative adventure.
Christian creates fascinating mosaics by using unlikely combinations of materials and textures. His latest works display some of the new techniques he has developed. He uses a play of texture and light to create infinite reflections and refractions, in contrast with the flat harshness of natural materials like granite. The artist hand-cuts each piece to achieve the flowing shapes and three dimensional patterns.
One of his trademarks is that his work is not installed directly to floors or walls; the mosaics come in a frame, ready to be hung, as a work of art or even turned into a piece of furniture.
Christian is passionate about his work and is on a constant quest for new ideas and interpretations that reflect his character and vision in an unconventional way. His sources of inspiration are nature, space and the universe. His dream is to exhibit his work beyond our shores